So let me guess, you want a lush green lawn but not quite sure whether to go with SOD or Hydroseeding? You are not alone but when ti comes to making a decision about what method of grass to use its good to know you have choices. There are some ways to achieve the goal, but you may want to consider other factors such as cost, climate, slope and time frame. These factors can play a huge role in the decision to hydroseed, sod or manually seed your new lawn.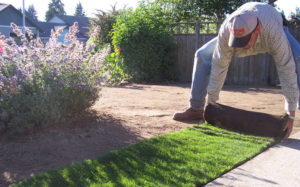 Hydroseeding Costs in Houston TX
While we do not currently perform sod installation services, we are a leader in Hydroseeding and Hydromulching Services in the Houston TX area. While Sod can provide instant gratification and the immediate results are appealing to many customers, the cost is usually not worth the trade off when it comes to exploring overall costs and benefits.
Many Sod providers try to minimize the savings when it comes to SOD vs. Hydroseeding. When you peel the onion and explore costs in more detail, you will find that SOD can run anywhere from $200.00 to $300.00 per pallet installed. One pallet can cover approximately 475 SF. If you have a 10,000 SF yard that needs to be installed, you will be looking at approximately 22 pallets at an average cost of $250 per pallet for a total cost of $5.500. If you compare the cost to Hydroseeding or Hydromulching, this same 10,000 SF area can be covered with one load of material for a turnkey price of approximately $1200. That's a saving of $4300, and this is for a smaller yard. The good news about using a Hydroseeding Company, if you decide to go with our Hydroseeding Experts, the larger the area, the cheaper and more affordable the price.
Now let's explore the cost of a 1 ACRE project. One acre is 43,560 SF and if you decide to go with SOD, you will need approximately 92 pallets. Even if you can work a deal with the SOD Services provider in the Houston area at $200 per pallet installed, you would still be looking at the cost of $18,400 plus tax.
If you compare the same cost to Hydroseeding, depending on the seed you select, you can expect to pay approximately .045 per SF for a total cost of $1960.00. The solution includes SEED, MULCH, and FERTILIZER, which is all you need to get the growth needed for the seed to initiate the germination process. When you analyze the cost savings from the one-acre project, compared to spending $18,400 with SOD, the total cost of $1,960 represents a savings of $16,400.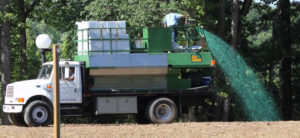 How To Find The Best Hydroseeding Company in Houston
The process is performed by seasoned Houston Hydroseeding Experts that perform Hydroseeding Services every day. It is what we do and this is just not a process that you should try to do yourself. We often get calls from clients that stated that they tried to throw out some seeds themselves and they wonder why it is not growing? What they do not understand is the Hydroseeding process mixes the seeds, mulch, and fertilizer with water. The result is a Hydromulch slurry that is sprayed out on your yard. The thick slurry solution helps to retain moisture to allow the seed to grow as needed.
When it comes to needing grass around custom landscaping areas and pools, many customers want an instant lawn by using SOD. Depending on the slope of the area, Hydroseeding can be good for hard-to-mow banks, and soaking everything a day ahead of time helps with germination. It's also relatively fast, and there's no need to mess around with straw. We use the best hydroseeding equipment, and our costs are usually less than most competitors.
It is important that you spend time preparing the are to be seeded before proceeding with the Hydroseeding process. A lot of people think all you have to do is put down a great quality seed or sod, and you're all set, but lack of focus on the prep work can be a huge mistake. One of the first things you should do is try to kill out the existing lawn with a spray such as Roundup, especially if you have weeds. Before installing the seed, hydroseed or sod is also the best time to amend soils. "You're so much better off to make sure your pH is right, and you put your compost down and amend the soil structure then because you won't disturb the new lawn. The soil underneath the sod or Hydroseeding is what will determine the overall success with your hard.
It is critical to consider the required post-installation care. Wih Hydroseeding, the mulch needs to be moist at all times during the first few weeks until the seed germinates. The time of year will play a huge role in the type of seed you should use. We normally recommend Rye grass from September to May and Bermuda from May through September. We can provide any type of seed you desire such as Bermuda, Zoysia, Centipede grass, Buffalo grass and others. We can also provide different types of pasture grasses and seed blends for forage. Lastly, we can seed for wildlife and wildflowers varieties.
Houston Area Locations We Service:
We provide Hydroseeding and Hydromulching services in Angleton TX, Alvin TX, Atascocita TX, Bay City TX, Baytown TX, Beaumont TX, Big Spring TX, Bellaire TX, Brownwood TX, Brenham TX, Bryan TX, Clover Leaf TX, Clear Lake TX, Conroe TX, College Station TX, Corsicana TX, Corpus Christi TX, Cypress TX, Deer Park TX, Friendswood TX, Galena Park TX, Galveston TX, Houston TX, Humble TX, Huntsville TX, Jersey Village TX, Katy TX, Kerrville TX, Killeen TX, Kingwood TX, Lake-Jackson TX, League City TX, Longview TX, Magnolia TX, Mission Bend TX, Missouri City TX, Montgomery TX, Nacogdoches TX, New-Braunfels TX, New Caney TX, North Houston TX, San Jacinto TX, Palestine TX, Pasadena TX, Pearland TX, Port-Arthur TX, Rosenburg TX, Seguin TX, Spring TX, Stafford TX, Sugarland TX, Texas-City TX, The-Woodlands TX, Tomball TX, Tyler TX and Victoria TX.
To discuss seed types in more detail or Hydroseeding vs SOD, contact the Hydroseeding Pros at http://www.HoustonHydroseeding.com by calling 281-369-4800.